A few weeks ago we received a very exciting email!  Ross, from Prestwick, was planning a very special birthday surprise for his beloved and asked how he'd be able to personalise a bottle of our Original Edition Rock Rose Gin with a marriage proposal….
Super excited, we were straight on the job and asked Tamara from Seastone Studios what she had used in the past to write on our bottles!  She was very helpful in recommending a specific brand of ceramic pens and some good advice.  Ross placed his order and we carefully packaged it into an incognito postal box and sat back waiting to hear the news.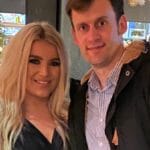 Lo and behold, a few days later – we received the happy email with the fabulous news that Lynsay said yes!!
Lynsay was only too happy to share the lovely story of the romantic proposal with us….
Ross & Lynsay
Ross and Lynsay met almost 3 years ago to the day when she started as an Information Manager for an Engineering Consultancy in Glasgow. Ross had been with the business 2 years prior as a Mechanical Engineer and they were both to work on the same project which is where the first conversations took place!
"One of my responsibilities is to quality check documentation for our clients and having checked Ross's work for 3 years, I take it as a compliment that he still wants to marry me haha."
Lynsay, originally from Wick, and Ross moved into together in 2018.  With a love of good gin, exercise and animals (particularly primates) they had lots in common and the couple bought their first house together in July 2019.
"Ross is a full-blown monkey/ape fanatic and it has become a tradition that any of our friends who have babies will receive a monkey soft toy from Ross and I.  When Ross (finally) proposed it did not surprise me that he included his favourite animal."
On the day of Lynsay's 'lockdown birthday', Ross instructed her to remain upstairs while he did some preparations, eventually he called her down…
"I saw bunting, balloons and 4 primate toys sitting on the sofa holding objects wrapped up in tissue paper. He said 'there is a subtle theme'.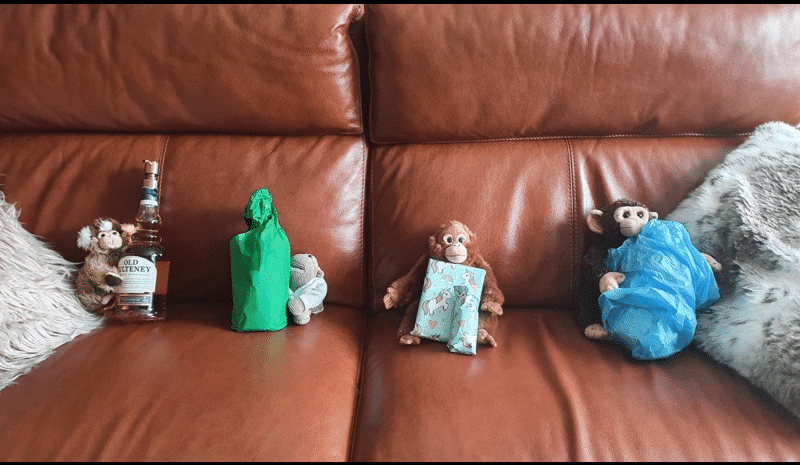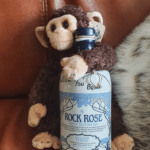 Monkey 1 was holding a bottle of "Old" Pulteney Whiskey
Monkey 2 was holding a "New" bottle of Rock Rose Spring Edition Gin
Monkey 3 was in fact a "Borrowed "soft toy holding a Rock Rose Cocktail Recipe Book
Monkey 4 was holding a "Blue" original edition bottle of Rock Rose Gin with the caption "Will you be Mrs G?".
I stood in shock and silence for what seemed like forever and asked was it a joke? Ross had never really shown any interest in getting married, at all. It didn't even occur to me that he was planning to propose. He played his best poker face for all my boulder sized hints.
We are really delighted to have been a part of Ross and Lynsay's special moment and wish them the most amazing future together!