Visiting Our
Wee Distillery
We are delighted to be able to welcome you once again on a wee tour to explore our distillery and discover our spirits!
Join us at the distillery to learn a wee bit more about our spirits, our botanicals and our fabulously shiny stills, Elizabeth and Margaret.
Dunnet Bay Distillery is situated on the iconic North Coast 500 route around the north of Scotland and the John O' Groats to Lands' End tourist route. We are located three miles from Dunnet Head, the most northerly point on mainland Britain.
– Further information on our location –
– Our responsible visitor charter –
Guided tours of our distillery run throughout the year, please visit our booking page to check availability.
You will start your tour with a Rock Rose Gin and Tonic on a comfy couch by a wood-burning stove in the Tasting Room of our 5-star Visit Scotland Visitor Centre, which is located in a refurbished early 20th-century cattle shed with a retro vibe.  Here you will learn about the history of the distillery and the stories behind the hero botanicals used to make Rock Rose Gin and Holy Grass Vodka.  You will then be taken on a tour of the Still House where you will learn about our two traditional copper posts stills 'Elizabeth' and 'Margaret', the distilling and bottling process and the research and development work undertaken by the distillery. Back in the Tasting Room the visitor experience concludes with an interactive tutored tasting of our award-winning spirits.  There may be a few surprises along the way!
Our distillery tours have achieved a TripAdvisor 'Outstanding Attraction' award because in the words of a recent visitor they are 'Tip top tastic'!
All guided tours of our distillery are in English and last around 1.5 hours.  £18 per adult.
We endeavour to make the distillery tour as enjoyable as possible for all of our visitors. Visit our Distillery Accessibility page or download our Distillery Accessibility Guide in Word format. Contact Us if you have any special requirements.
We love dogs and have a box of welcome treats and fresh water available for your four-legged friends. Whilst we are happy to welcome well-behaved pooches into our shop, they are unable to join you on a tour as we do not allow them into our Tasting Room or StillHouse. We do have a sheltered lead tether just beside the shop and our garden is available for leg stretching and a quick walk.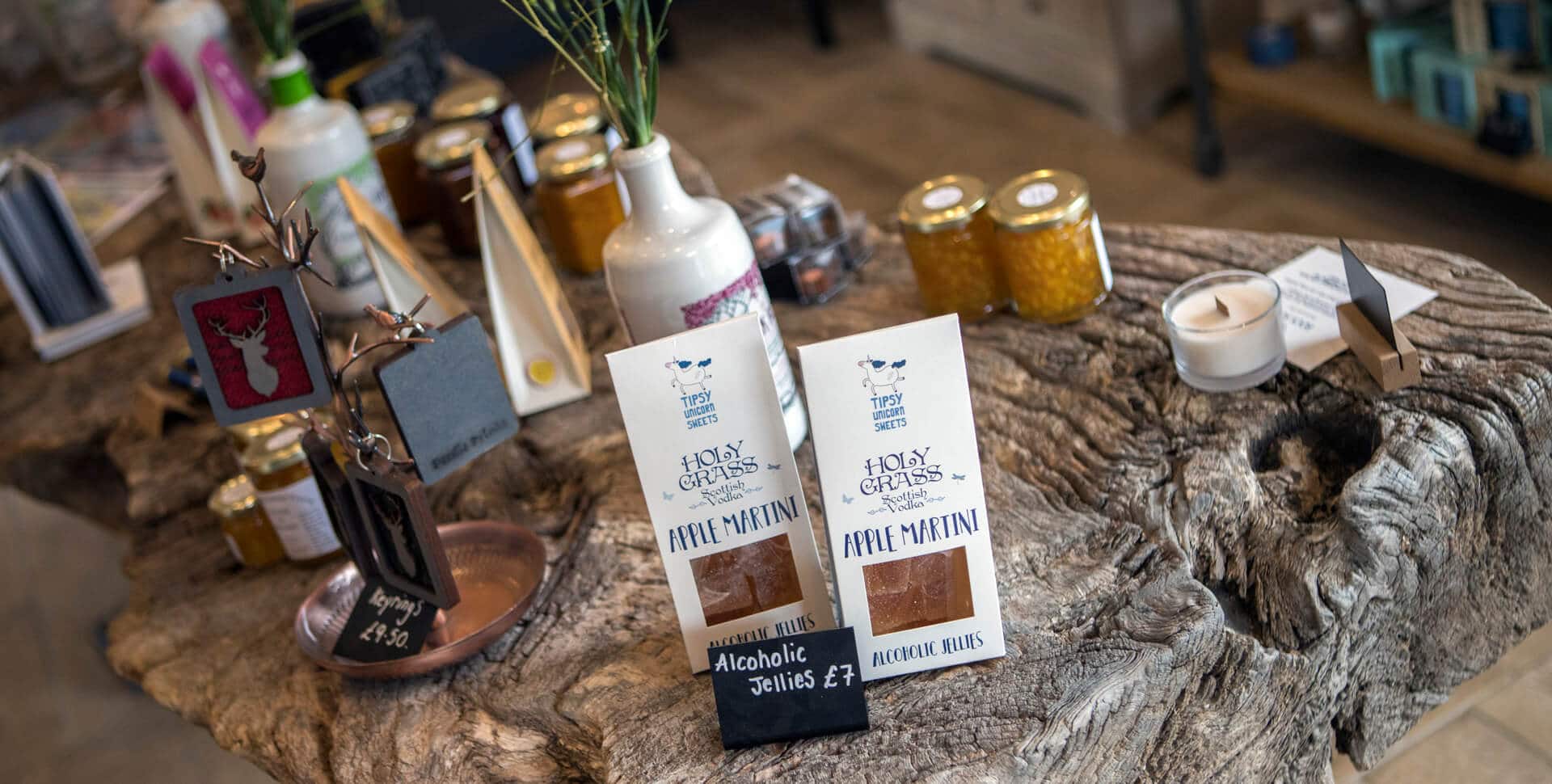 Dunnet Bay Distillery
Shop Opening Times
Explore our wee shop located in our 5-star VisitScotland Visitor Centre and discover our multi award-winning spirits and peruse the selection of distillery exclusives!
We also stock a few lovely locally made goodies including Rock Rose Gin shortbread and marmalade, plus yummy Caithness chocolate. A selection of lovely gift items is also available which include cards, prints and other work created by local artists and craftspeople, candles, soaps and pumps to upcycle your empty Rock Rose Gin or Holy Grass Vodka bottle into a soap dispenser! We can also refill your bottle when you pop into to see us at the distillery shop.
| DAY | SHOP OPENING | SHOP CLOSING |
| --- | --- | --- |
| Monday – Friday | 10am | 5pm (Apr-Oct) / 4pm (Nov-Mar) |
| Saturday | 10am | 5pm (Apr-Oct) / 4pm(Nov-Mar) |
| Sunday (from May to August) | 12pm | 4pm |