Best Distilled Drink
We were delighted to be awarded Best Distilled Drink, for Lassies Toast Gin, at the Highland and Island Food & Drink Awards on Friday! It is a real honour and fantastic for our #WebsiteCrashing Lassies Toast gin to receive this prestigious award.
Lassies Toast is a limited edition which we have released only in January to celebrate Burns Night on the 25th. The gin was inspired by the Moorland tea that Robert Burns is reputed to have enjoyed. It is a unique recipe designed in-house and featuring bilberry leaves, strawberry leaves, heather tops, speedwell and wild thyme. All ingredients found in the Moorland tea recipe.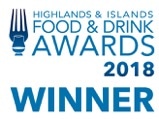 We are proud to be recognised once more by the Highlands & Islands Food & Drink Awards.Our Lassies Toast gin was a sell-out success this year, with a record 2000 people per minute clicking to buy it at launch so it will definitely be back by popular demand next year!