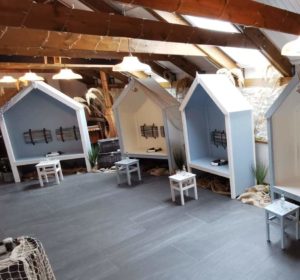 I am delighted to introduce our new distillery visitor experience – North Coast Stories with Tasting.  Following the government guidelines, Martin and I decided to change our existing tour in order to adhere to social distancing and help reduce risk.  As normal, we started out with a small idea and ended up getting completely carried away with the theme!! We decided we would offer small 'bubble' tutored tastings and to make them different from our usual distillery tour we would 'theme' this new experience.  As it is VisitScotland's Year of Coasts & Waters it felt natural to tie in with this.
Socially Distanced Boat Sheds
Maintaining social distance was key to welcoming visitors again and we hit upon the idea to have 'Boat Sheds' made especially for us.  My dad, an exceptionally talented person to have around, took on the task of building these along with assistance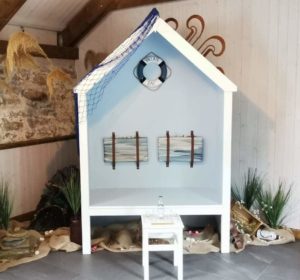 from his friend, Sandy.  In less than one week we had five Boat Sheds in the Tasting Room ready for painting!
Decor
Painting the boat sheds turned into a mammoth task as we originally chose the wrong colour and ended up painting two of them twice!  Next came the decor – the fun part.  We're not really in short supply of natural coastal accessories in Caithness so we made the most of what was available locally decorating with rocks, shells and driftwood finds.  A few creels that were handmade by my brother-in-law's father adorn the corner alongside a hand reel.
We had an amazing find with Atlas Flowers who have a wonderful selection of preserved, dried and faux flowers.  We ordered lovely preserved heathers and daisy style flowers to place around the room, to add to the coastal theme.  The flowers really are beautiful! Lots of marram style grasses are growing along the 'sandy' banks between each Boat Shed with shells and beach finds dotted about.
What to expect
On our new distillery visitor experience our Rock Rose Gin Captains will warmly welcome you into our Tasting Room where you will be seated in your very own Boat Shed.  Each Boat Shed holds two people from the same bubble and is socially distanced from the next Boat Shed.  Three samples of our spirits plus tonic and water for each person are placed on a small table ready for you to enjoy.  Your Gin Captain will talk you through each spirit with lots of maritime themed stories and tales. The experience will last around 30 minutes and you will be able to enjoy some time in the shop afterwards. Book a distillery tour with us!
Safety
Your safety and that of our team is very important to us.  We created the Boat Sheds as part of the new distillery visitor experience to maintain social distancing easily and safely.  When you enter the Tasting Room, you will be asked you to sanitise your hands with 'heads' and to please wear a mask until you are seated within your Boat Shed.  You will remain in your Boat Shed until the end of the experience.  At which time one of our Captains will invite a Boat Shed at a time to browse our shop or to leave the Tasting Room.  Masks must be worn when entering and exiting the Tasting Room and whilst in the shop.
Once all our guests have left – the clean through begins.  All Boat Sheds and tables will be sanitised – we have minimised decor which can be touched, hence why the cushions in each Boat Shed is strapped to the backrest. The floor will be cleaned, and all handles and possible contact points will be sanitised. Doors will be opened to allow a good blow through of fresh air.
At any point this is subject to change.  We will always follow government guidelines and listen to concerns raised by our team or visitors.  Safety is our priority!
Visiting our area
We will be delighted to welcome you if you are already staying in our area.  However, this summer is proving to be a very popular time for holiday makers and Caithness is getting quite busy.  We will be running our North Coast Stories with Tasting experience all year, so please feel free to book a place later in the year when it is less congested!  We want you to see Caithness at it's very best and to experience it as we do – it's wide open spaces, vastness and tranquillity in all its glory.
Rest assured though that no matter when you visit you will always receive a warm welcome from us here at Dunnet Bay Distillery!