Welcome to Rock Rose Recycle!
Here at Dunnet Bay Distillers the environment is hugely important to us and as such we want to recycle and reuse as much as we can.  We have introduced many green policies at our distillery but this is the next step in our exciting adventure….
We are thrilled to launch Rock Rose gin fully recyclable gin pouches – a super recycle scheme that allows you to refill your collectable Rock Rose gin ceramic bottle.  Now you will have a bottle for life!!
Just before you have emptied your ceramic bottle of every delicious last drop of Rock Rose gin, order your letterbox sized refill and simply top up your bottle once you do empty it!!  Afterwards, pop the already addressed pouch straight into the post box (no envelope or stamp required) and they will come all the way back to us for recycling! It couldn't be easier 😀
This green innovation, the first of its kind in the UK, has been developed by us in partnership with PA Consulting, the consultancy that's bringing ingenuity to life and who are experts in innovation and technology. Following more than 12 months of research and development, PA created a lightweight refill solution for current bottles of Rock Rose Gin with closed loop returns system for the pouches to be recycled by our recycle partner. A four layer laminate pouch has been selected to lock in all the freshness of the gin, with an easy-to-use plastic spout closure.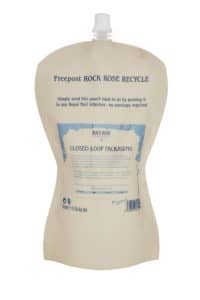 Delivered, as well as returned, through the letterbox, the sustainable packaging also significantly reduces the energy spent in shipping our Rock Rose gin to customers, with the pouches weighing just 65grams rather than the 700grams for a bottle.
Our gin is renowned for its signature and collectible ceramic bottles, which are all hand signed and sealed at the distillery. With these new pouches, all our customers are now able to easily refill the bottles at home, saving £4 per 700ml of gin. For recycling, you simply pop the freepost stamped pouches provided directly into the post box – no envelope required.
This new innovative recycle scheme is the first step of our sustainable development journey. We hope to have a fully biodegradable refill by 2025 as part of our overall green strategy