This is Craig, the distiller of our brand new Rock Rose Gin Smoked Orange Edition.
Craig has worked with us on and off since his teenage years and has recently graduated from Heriot Watt University in Edinburgh with his BSc (Hons) degree in Brewing & Distilling.
He also won the Best Brewing & Distilling Project Dissertation for his year in 2021.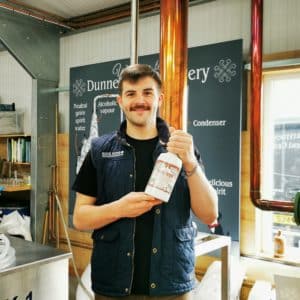 As part of a full-time graduate placement scheme, Craig returned to work with us  and Martin challenged him to come up with an entirely new gin expression. We are delighted with the resulting new gin expression.
Craig has a passion for smoky, peaty whiskies and so it was a natural development for him to consider a smoky gin. He opted for Lapsang Souchong tea, making a distillate to introduce the smoky notes, and then experimented with various citrus ingredients. He felt lime and grapefruit were too tart. Sweet orange peel was just right, and he then enhanced the sweet citrus notes of the dried orange with tangerine sage, adding up to 150gms of this herb, as well as pineapple sage and lemon verbena. These botanicals are grown by Hanna in the own very own distillery garden. The gin also contains cassia, liquorice, water-mint, and bilberries.
In the final trials, Craig discovered that adding cold brew tea to the liquid provided the perfect finishing touch.
Martin is really pleased with the outcome "Craig has done a great job since he came in as a distiller and this gin is a cracker. It's a flavour profile that he identified as being missing from our range and he's delivered a gin perfectly in balance.
We're proud as a business of the opportunities we've given people and there will be more to come with our future whisky distillery."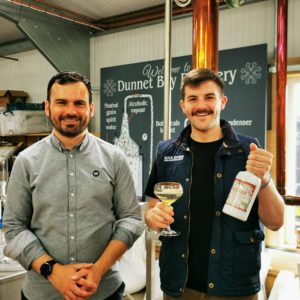 Craig's career is now set to take a different turn. After completing just over a year with us in his graduate distiller role, Craig is keen to travel and explore.  In the Autumn, as this gin launches officially, he will travel to Patagonia to expand his experience by working for a new whisky distillery. We wish him well with his new adventure and perhaps one day we can welcome Craig back.