It's number 776!
When our Smoked Orange Edition returned and we were delighted to have it as part of our Rock Rose family permanently. To celebrate its return we ran a fab wee competition The Orange Envelope, with a chance to win a Refill Reward Club Gift Hamper.
Make sure you check your bottle number! The winner will have Year 2022, Batch 2, Bottle No 776, Distiller CC on the back.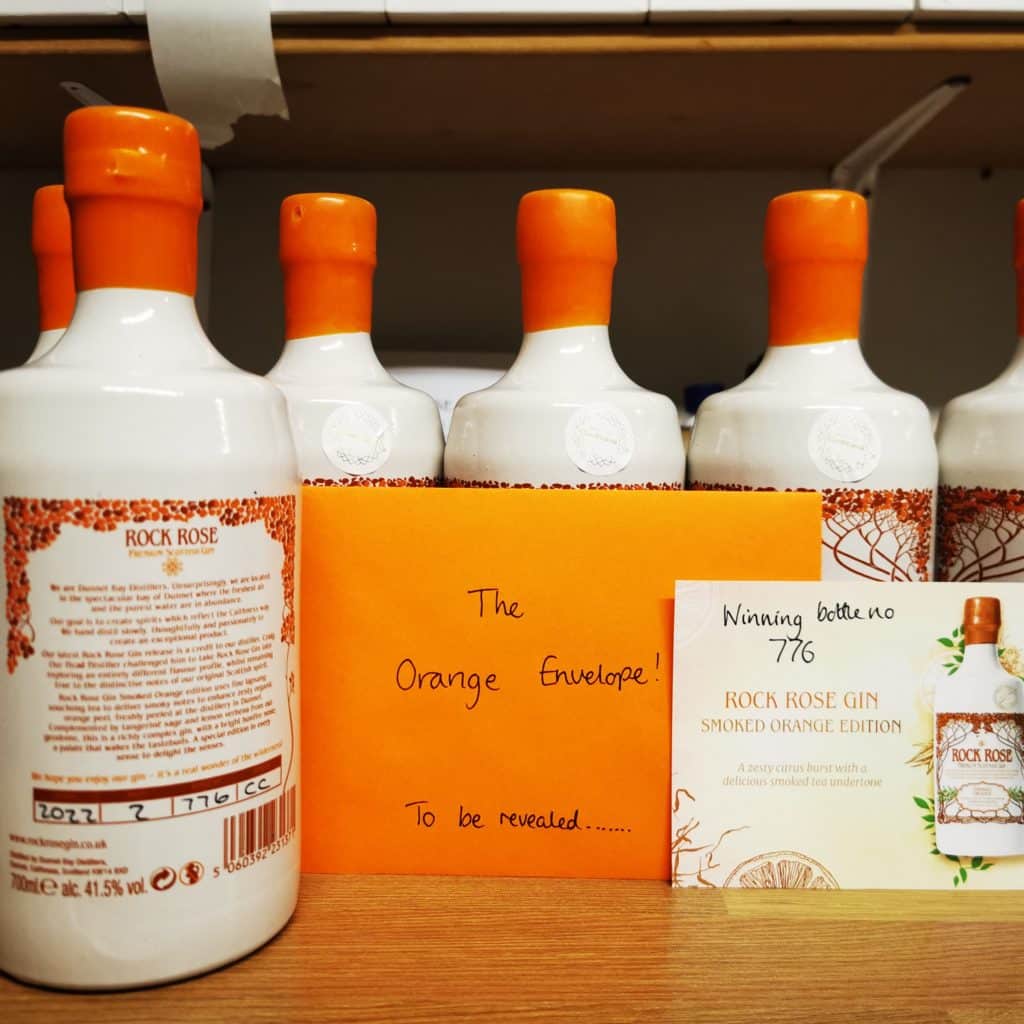 Winner's prize
Participate in The Orange Envelope competition with a chance to win our Refill Rewards Club Gift Hamper. It includes:
3 month membership gift voucher to the Refill Rewards Club
700ml Rock Rose Gin Original Edition
1 Rock Rose Gin Glass
1 Mr Mackintosh Lolli-pup
How to participate
Inside The Orange Envelope we have written "Batch 2" and a randomly selected bottle number.
On Wednesday 30th November 2022 we will reveal this bottle number on our social media and by email.
If the number matches your bottle number from Batch 2 of our Smoked Orange Edition then you will be our lucky WINNER.
Sign up to our email newsletter to find out the lucky number in November!
---
Terms & Conditions
Entrants must be over 18 and have a UK postal address.
There will be only 1 winner. Winner's Prize: 1 x 3-month membership gift voucher to our Refill Rewards Club Gift Hamper. Includes: blue hamper, 1 x 700ml Rock Rose Gin Original Edition ceramic bottle, 1 x Rock Rose Gin glass, 1 x Mr Mackintosh lolli-pup and a 3-month membership to Refill Rewards Club.
On Wednesday 30th November 2022 we shall reveal the number, concealed within The Orange Envelope, via email and social media. The competition winner is the owner of that bottle number of our Smoked Orange Edition, Batch 2, 2022.
The prize is non-transferable to cash.
The owner has until 31st January 2023 to claim their prize.
To claim: Please email

in**@ro*********.uk

with your details. The owner of the winning bottle MUST send an image of themselves with the winning bottle for us to verify.
The image sent by the owner/winner will be used on our email, social and communications.
The winner consents to the use of their image, name and/or photograph in any publicity carried out by Dunnet Bay Distillers Ltd, without further compensation.
This promotion is in no way sponsored, endorsed or administered by, or associated with Facebook, Instagram or Twitter