The third most prolific botanical to be used in the production of gin is angelica (Angelica archangelica).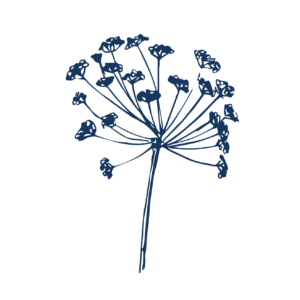 Angelica is known by many names including 'Herb of the Angels', 'Angel's fishing rod' and 'Norwegian angelica'. Angelica grows wild in Northern Europe and thrives in cold climates such as the United Kingdom, Scandinavia and parts of the United States of America. Angelica is a member of the Apiaceae or Umbelliferae family of mainly aromatic flowering plants which are part of the carrot, celery or parsley family.
Legend has it that angelica is named 'Herb of the Angels' after the archangel Michael who supposedly visited a monk to inform him that this botanical could help cure the bubonic plague. Chapter 100 of King Olaf Trygvason's Saga which is found in Snorri Sturluson's Heimskringla – The Chronicle of the Kings of Norway states that in an attempt to please her that King Olaf presented his wife Queen Thyre with 'remarkably large angelica roots' as a gift in the spring following their marriage. Apothecary to King James I and royal botanist to King Charles I, John Parkinson the great English herbalist named angelica as one of the most important of all the botanicals used as medicinal herbs. People chewed angelica to ward off influenza during the Spanish flu epidemic of 1918–1920 and during World War Two angelica root was used by soldiers as a substitute for tobacco.
The leaves, root, seeds and stem of angelica are all edible and have been used in cooking since the Viking Age. The Vikings dried angelica roots which they ground and used as a spice to season food such as meat and fish soups and porridge. They also used this botanical in folk medicine. Angelica was used to make a hot tea to ease colds, fevers and sore throats. It was also used to stimulate the digestive system and relive colic and wind. Eating the leaves of this botanical was used to calm the nerves and treat people with high blood pressure.
Angelica has a thick hollow stem which in the Middle Ages were used to make homemade flutes. The superstitious medieval population of Europe believed that wearing a piece of angelica root close to their body would protect them from witchcraft and malicious curses. Angelica roots were also worn as amulets by people who wished to make themselves more attractive to the opposite sex, eaten by men who wanted to cure their impotence and when hidden under bedding was said to take lovemaking to a different level.
Before being used to make gin, angelica root is usually roughly chipped or chopped. It adds earthy notes to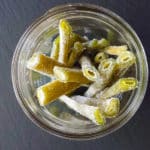 gin and is often known as the botanical that gives gin its distinctive dryness. Angelica root is also used in gin manufacture as a fixative as it helps to marry together the botanicals that give gin its flavour and to maintain the integrity of the gin's flavour profile.
Candied angelica has been eaten as a sweet treat for centuries and until the 1980s was used to decorated iced cakes. The stems of angelica can be steamed and used much like rhubarb. In fact, when combined with rhubarb angelica roots make a tasty jam. Angelica roots when cooked in water until tender also provide a very tasty accompaniment to fish.
By Joanne Howdle, our Tour and Events Co-ordinator