Our Beautiful Botanical is wild raspberry (Rubus idaeus), commonly called 'red raspberry' is also known as the 'hindberry' in some parts of Scotland because it is a favourite food of deer. The botanical is a perennial ever-green shrub, the stems which take the form of upright canes with prickles can grow up to 1.5 metres long. Wild raspberry leaves are pinnate, with leaflets usually ovate to lanceolate and with toothed margins. The botanical flowers from May to July. The rose-like white or pink petalled flowers of wild raspberry can grow to about 4 centimetres across and form the classic bobbly aggregate fruit. Smaller than the cultivated raspberry, this botanical has a fresher and sharper flavour. Wild raspberry is native to the entire Northern hemisphere.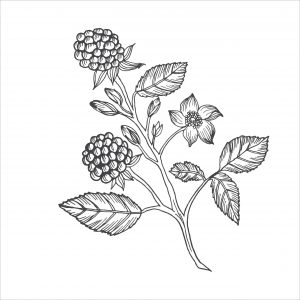 The scientific name of wild raspberry means 'Bramble of Mount Ida'. In Greek mythology, a wild raspberry bush is said to have appeared on the slopes of Mount Ida, and its fruit quickly became highly prized by the gods of Olympus. The nymph Ida, the nurse of Zeus, apparently wanted to pick a white coloured wild raspberry from the mountain on which the fruit was growing to calm Zeus's sorrow. When she was picking the fruit, Ida pricked her breast with wild raspberry thorns. Her blood tinted the fruit a bright red colour and as a result of this event the white berries of wild raspberry became red for all eternity. A folk tale told throughout Britain is that the devil spits or urinates on the berries of this botanical after Michaelmas (29th September), because he was thrown from Heaven by Saint Peter on this day. In the past bramble switches were often hung above door lintels in the Highlands and Islands to ward off the evil eye.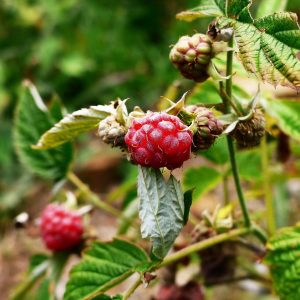 Wild raspberry provides many vitamins to the body and once had a great reputation from a medical point of view. Herbalist Nicholas Culpeper (18th October 1616 – 10th January 1654), in his book the Complete Herbal (1653), notes that the juice of the ripe fruit boiled into a syrup, with refined sugar, was used in Britain as a cure for the stomach, preventing retching and sickness. An infusion made from dried wild raspberry leaves was used in the Highlands in the past as a gargle for sore throats. The leaves of wild raspberry were, and still are, widely used in a tea by expectant women, the belief being that the drink strengthens the muscles of the womb.
In Scotland, wild raspberry has long been foraged for its delicious berries. Archaeological evidence indicates that Mesolithic hunter-gathers ate raspberries, a practice that continues with modern foragers. The blissful little fruits of wild raspberry make it a common place luxury. A scattering of wild raspberries can transform a salad, cake, or dessert – whilst a sprinkling of this botanical is enough to turn porridge into a feast. Wild raspberry also goes well with certain fish such as salmon or with meat with a strong taste such as duck. The dried fruit of this botanical makes an excellent raspberry brandy, whilst the berries, can be used along with sugar, water, and lemon juice to make wild raspberry cordial. Wild raspberry commonly finds its way into alcoholic drinks – from beers to wine. In gin production, this botanical adds a classic juicy berry flavour to the spirit. Vietnamese coriander (Persicaria odorata) and nasturtium flowers (Tropaeolum majus) when distilled with wild raspberry create a warm gin bursting with berries and a light spice, as demonstrated in our Autumn Edition.