It's the time to be thinking about picnicking in the lovely summer months!  The days are longer and stretching later into the evenings, the sun makes more than a passing appearance and it's lovely to be spending time outdoors.
For our June Refill Rewards Club box we have included two delicious, easily packable picnic treats.  Delicious Rock Rose Gin tablet made by Angela – just the perfect amount of sweetness; and something a little different but so easy to pack, the tasty Podberry Pea Snacks.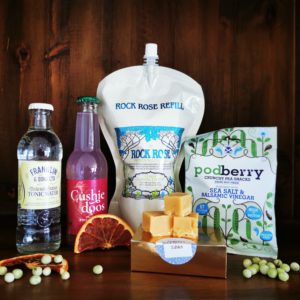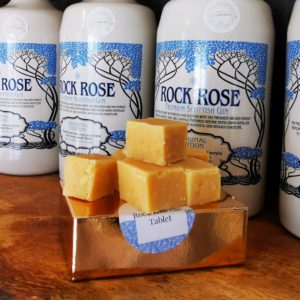 The owner of our local grocer JA Mackays, Angela, has always been a great support since our very early days. JA Mackays is a fab shop to explore and packed with lots of fabulous goodies to discover and a very extensive whisky collection too.  More importantly, Angela is also a fabulous tablet maker and sells her Rock Rose Gin Tablet in her shop. We have included it for you to try as we love it!
Angela can be contacted on An****@ge*******.com if you are already in need of a tablet restock!  It's also worth finding out about whiskies available through her too.
Podberry's pea snacks are made with real peas which have been freeze-dried, locking in all of their green goodness and nutrients, and giving them their signature crunch!  As they are dried not fried, it makes them a deliciously tasty snack that are low in calories, low in fat and a wonderful source of plant protein.
Each crunchy little Podberry pea pops with natural flavour, making them the perfect choice for healthy snacking, as a treat, or on the go.  They are also gluten-free and vegan-friendly and made on a fourth-generation family farm in Perthshire.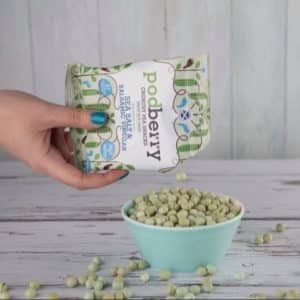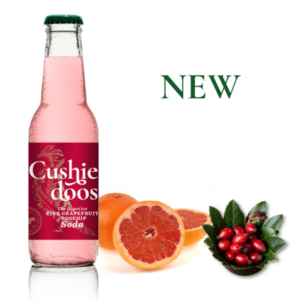 We included Cushiedoos new soda in January's boxes as it is a really fab drink and just waiting to be discovered!  Cushiedoos Pink Grapefruit & Rosehip Soda has been created to let you taste and not overpower your spirit or dry your tastebuds.
We absolutely love the new Cushiedoos soda with our Holy Grass Vodka too – it's not just for gin!
Did you like the look of our Refill Rewards Club – June box?  Sign up to become one of our fabulous members – become a SuperFan, an Appreciator or a Sipper and enjoy regular boxes of goodies just like this.
Don't forget our members receive priority access to our Limited Editions and New Releases through their members page!