It is April which means Spring is here.  The daffodils are out in brilliant bursts of yellow, the lambs are playing in the fields and we've had some fabulous snow showers!  It wouldn't be Spring if we didn't have a blast of snow!
April 2021 also brings lots of hope and positivity with hairdressers, bars, restaurants and shops beginning to re-open.  We wanted continue April's positivity by bringing you another fabulous Refill Rewards Club box with some really lovely goodies! One is even brand new to the market 🙂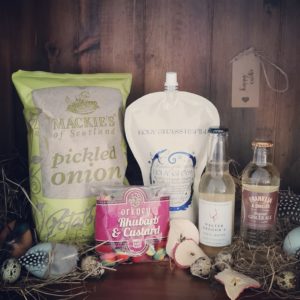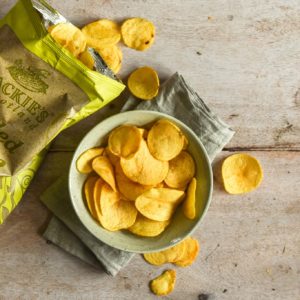 This month we are super excited to bring you the brand new crisp flavour released by Mackie's of Scotland!  These are absolutely mouth-watering; your tastebuds will be laced with a distinctive salty & sour zing sensation, bringing you back to your school days!
Mackies suggest pairing them with your favourite sandwich for added crunch but we think they'd pair perfectly with a Gibson cocktail – like a Martini but served with a pickled onion!  Why not try them with our newest release – Citrus Coastal Edition Gin?
Just a short boat trip across the Pentland Firth from our distillery takes you to the fab island of Orkney.  Orkney is well known for its quality crafts and produce, and it is also the home of Orkney Fudge!
Argo's Bakery have been producing bread, cakes and biscuits in the harbour town of Stromness for over 70 years. They are also fab confectioners, using the finest of ingredients and traditional methods. In 2008 they added Orkney Fudge to their portfolio!  We chose to include their delicious Rhubarb & Custard sweeties in this month's box to showcase a different part of their range!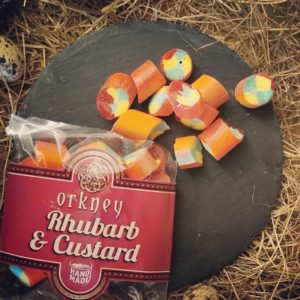 Did you like the look of our Refill Rewards Club – April box?  Sign up to become one of our fabulous members – become a SuperFan, an Appreciator or a Sipper and enjoy regular boxes of goodies just like this.
Don't forget our members receive priority access to our Limited Editions and New Releases through their members page!