The month of August is another one to enjoy being outside and relishing the better weather.  The evenings are still long and pleasant to sit out in gardens and patios! For this month, we thought we'd celebrate dining alfresco and included snacks to be savoured outdoors with a Rock Rose Gin or Holy Grass Vodka in hand.
We chose two delicious snacks that are easy to carry along on outings and can be enjoyed outdoors.  A classic Scottish sweet treat and something a little more contemporary!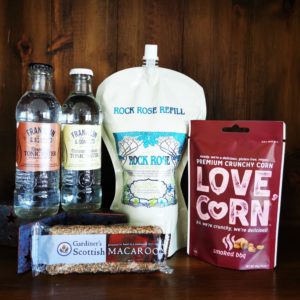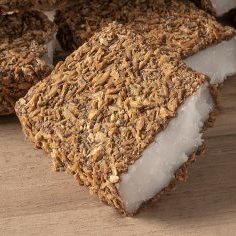 A classic Scottish confectionery treat created by Gardiners of Scotland. These macaroon bars have a soft, sweet and creamy center covered in equally delicious and smooth chocolate.
And if that wasn't enough, it is finished off with a coating of toasted coconut.
These are the perfect wee snack for taking on an adventure outdoors!
These delicious, crunchy LOVECORN kernels are packed full with flavour.  A handy sized snack to take on the go and they are perfect for are perfect for lunch boxes, after sports, sprinkled on salads, soups, added to  a cheese board or simply enjoyed with a Rock Rose Gin in hand.  They are ideal for enjoying out in the late evening sun!
These are plant based, vegan and gluten free.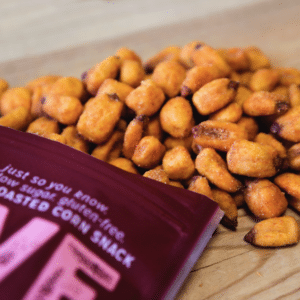 Did you like the look of our Refill Rewards Club – August box?  Sign up to become one of our fabulous members – become a SuperFan, an Appreciator or a Sipper and enjoy regular boxes of goodies just like this.
Don't forget our members receive priority access to our Limited Editions and New Releases through their members page!