We love December with all it's excitement and festive fun!  It's also a crazy, busy time of year and we look forward to relaxing over the festivities and chilling out.  Our December Refill Rewards Club box has goodies just perfect for socialising and feeling festive!
A delicious bag of crisps in the perfect sharing size (or a good replacement if the turkey is too hard to get!) and beautiful, crumbly shortbread to nibble on!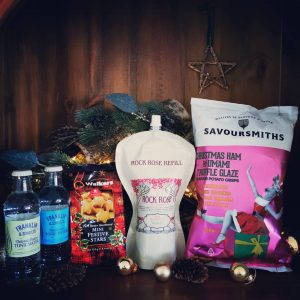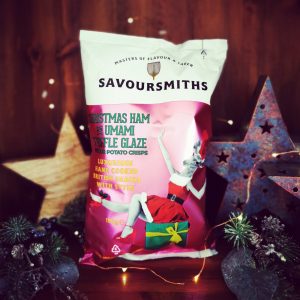 The Savoursmiths crisps were very well received when we shared them with you in August of this year.  So, when they told us about their fabulous new special edition for the festivities, we ordered them straight away!
Forget any turkey worries and make this Christmas the time for Ham with a decadent Umami Truffle Glaze.  The vegan Christmas Ham gives an almost bacon type flavour, which has always been hugely popular and tasty on a crisp. Umami and truffle give a very pleasant savoury taste, balancing and giving depth to round off to an overall decadent flavour.
Perfect to enjoy with a Rock Rose Gin & tonic!
What is more festive than shortbread?  Gorgeous mini bite-size stars of shortbread!  These are perfect for nibbling on all cosy by the fireside, with a Rock Rose Gin in hand.  Or for sharing with much loved family and friends at a special time of year.  Walkers have always been a staple in our house and not just over the festivities!
Walkers pride themselves in baking the highest quality products to original family recipes, using only the finest ingredients possible to obtain, and take pride in situating ourselves in the beautiful landscape of Speyside in the Scottish Highlands.  Vowing always to deliver the best that Scotland has to offer.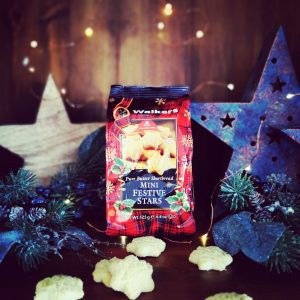 Did you like the look of our Refill Rewards Club – December box?  Sign up to become one of our fabulous members – become a SuperFan, an Appreciator or a Sipper and enjoy regular boxes of goodies just like this.
Don't forget our members receive priority access to our Limited Editions and New Releases through their members page! We have some exciting news on this coming soon – you don't want to miss out 😀