It's January with all it's lovely crisp, clean and fresh vibes that it brings.  We really enjoy January – yes, we are probably in a minority but it's such a beautiful month! It is calm after all the December craziness, the air is fresh and clean and the landscapes really come into their glory when touched by frost. Just beautiful for being outdoors!
The covid news has not been as good as we all had hoped for at the turn of the year but hopefully this Refill Rewards Box full of goodies will bring cheer to some!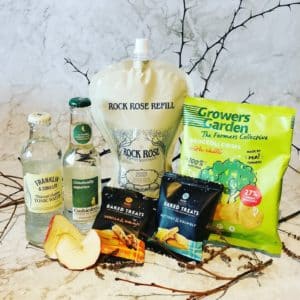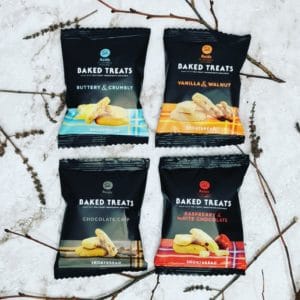 Synonymous with Scottish celebrations of Hogmanay and Burns Night, what better month is there to enjoy shortbread than January!
The award-winning Reids of Caithness are based just 10 miles from us in Thurso, a family run bakery which has made its mark around the world.  For half a century, Reids of Caithness have established an enduring association with our coastal home and a global reputation for outstanding quality and taste.  Baked with love and perfection, these gorgeous wee shortbread treats are yours to savour.
These fab Broccoli Crisps are a fresh new option in the world of healthy snacks. We think they are pretty awesome and just right for the month of January. Or any time of year really!
They are made using fresh veg grown in their very own fields in the East of Scotland.  Each one of the fantastic flavours contains at least 27% fresh broccoli (never powdered), making it the #1 ingredient.
Broccoli like you have never had it before!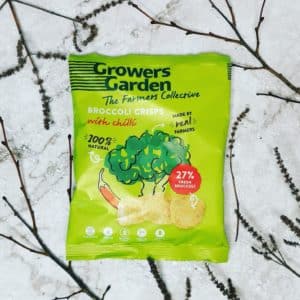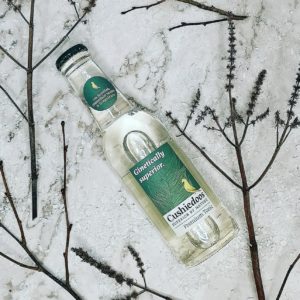 We included Cushiedoos tonic in January's boxes as it is a really fab tonic and just waiting to be discovered!  Made with Scottish botanicals and Scottish water it is designed to enhance your drink and allow the flavours to shine through.  A very natural tonic water crafted using heather, silver birch, yellow gentian and wormwood – no quinine in sight!
We absolutely love Cushiedoos tonic with our Holy Grass Vodka too – it's not just for gin!
Did you like the look of our Refill Rewards Club – January box?  Sign up to become one of our fabulous members – become a SuperFan, an Appreciator or a Sipper and enjoy regular boxes of goodies just like this.
Don't forget our members receive priority access to our Limited Editions and New Releases through their members page!