Wow – it is one whole year since we sent out our very first Refill Rewards Club boxes!  That is 12 months of sending out pouches and fabulous goodies for you to discover.  We have loved including our favourites and sourcing new snacks to try and we hope you have enjoyed them too.
Plans are afoot for next year – make sure you keep an eye out for our news….
In the meantime we're going to raise a glass of Happy BirthTea to the next 12 months – cheers!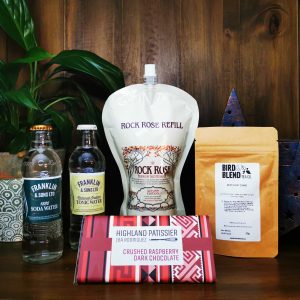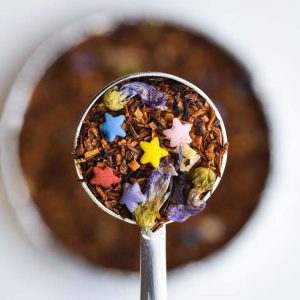 "Bird & Blend Tea Co. is an eco conscious, independent, people-focused, award winning Tea Mixology Company on a mission to spread happiness & reimagine tea!" Reimagining tea is exactly what they have achieved with deliciously, quirky flavours like 'Chocolate Digestive' or 'Hot Mama Jama'. We chose to include 'Happy Birthday' as our Refill Rewards Club turns 1 this month!
We love discovering their range as well as  loving the ethos behind the brand. The first words on their business plan in 2012 were 'no waste' and 'environmental responsibility'!
Try it out the the 'Happy Birthday' tea in our fab cocktail.
We chose to include the Highland Patissier in our October box to celebrate the 1st birthday of the Refill Rewards Club!  Chocolate is always required for a celebration.
The Highland Patissier is based in the village of Dornoch, 70 miles south of our distillery, and they are famed for their fabulous tarts. Every time we head south, these are always on our list to enjoy!
Afraid that these would not travel well in our Refill Rewards Club boxes, we opted to include some of their delicious chocolate instead!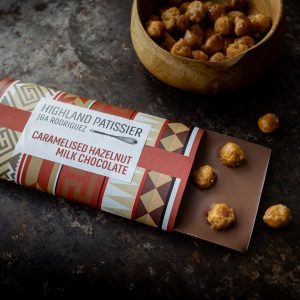 Did you like the look of our Refill Rewards Club – October box?  Sign up to become one of our fabulous members – become a SuperFan, an Appreciator or a Sipper and enjoy regular boxes of goodies just like this.
Don't forget our members receive priority access to our Limited Editions and New Releases through their members page! We'll have some exciting festive items to show you very soon – don't miss out.