Common juniper (Juniperus communis), a species of conifer, provides the one essential ingredient of gin – juniper berries. Without them, a spirit just isn't gin. Juniper's aromatic berries are in fact fleshy seed cones providing gin with its piney and resinous flavour. Juniper, a member of the cypress family is native to the United Kingdom and most of continental Europe, and it is found growing across the northern hemisphere.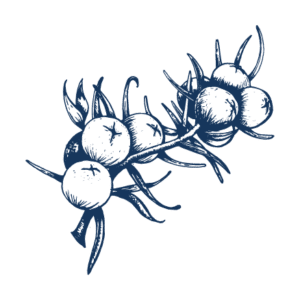 In ancient times, juniper, was thought to be a curative for all manner of illnesses. Pliny the Elder mentions juniper in his Natural History, while Aristotle claimed it was conducive to good health. The Ancient Egyptians boiled juniper with cumin, frankincense and goose fat, as a treatment for headaches. The Arabs used it for toothache pain. In both ancient and medieval times, a concoction of juniper, marjoram, rosemary, sage and sweet wine was drunk as a contraceptive and to induce abortions.
In the 14th century juniper was thought to be a 'wonder drug' during the time of the bubonic plague. Yersinia pestis, a bacterium spread by infected fleas on rats, quickly brought Europe to its knees, killing its victims within seven days, spreading from person to person without discrimination, and leaving panic in its wake. Millions of people died. Today, the plague can be treated with a course of antibiotics. But in spring 1348, when the plague was at its height, Europe's inhabitants were utterly defenceless. It was a commonly – and wrongly – believed that the plague was an airborne transmitted disease. To combat the stench of rotting bodies and to ward off 'deadly' airborne poisons, people employed the aromas of juniper. People held pomanders containing juniper to their nostrils and doctors wore masks stuffed with juniper. This worked to a degree, not because the plague spread through the air, but because it was spread by fleas and juniper is an effective, natural flea repellent.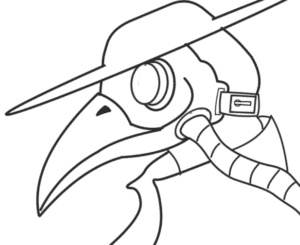 Fire was the primary disinfectant used against the plague and bonfires lit across Europe were fuelled by juniper, incense and rosemary. 14th century doctors had no real cure, administering herbal tinctures and elixirs with little success. Doctors, were however terrifying figures amid the chaos of the plague, dressed in flowing black robes, their faces covered by masks with a freakishly elongated nose cone stuffed with juniper. Looking like an enormous beak, these protective masks inspired the evolution of the term 'quack' for a doctor of ill repute.
From 1658 to 1672 Dr Franciscus Sylvius, made juniper-laced tinctures at the University of Leiden serving them up as a medicine for kidney complaints and for the tropical fever attacking Dutch settlers in the East Indies. The Diary of Samuel Pepys records that on 10th October 1663, Pepys drank a juniper-laced medicinal tonic to cure the pain of kidney stones. It was not until much later that juniper's medicinal properties were eschewed for its distinct presence as the key flavouring agent in modern gin.
Although juniper is no longer common in Scotland, it is still found in places and is being re-instated in several ecological restoration sites. Juniper can be used as an aromatic seasoning in marinades, casseroles and soups, and is especially good when served with game. Ground up juniper berries offer a tangy, resinous alternative to pepper, which can give an interesting taste to anything from grilled tomatoes to mashed potatoes. In gin production, the ripe, purple berries of juniper are used, typically whole, but sometimes they are milled or gently crushed to release more oils.
By Joanne Howdle, our Tour and Events Co-ordinator