It's March already and there are definitely signs of Spring!  Snowdrops are in full bloom, the daffodil shoots are sprouting up and even the sun has come out to play.  All coinciding nicely with the wonderful news that restrictions are beginning to lift.  The air is full of positivity and hope!
Many of our lovely members are embracing the change in season and have opted to have the Spring Edition delivered this month!  Perfect timing.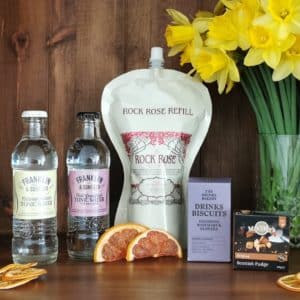 Award-winning fudge so soft and creamy that it would be hard to find anything like it.
Made by Mrs Tilly's using the highest quality of ingredients.  Softer in texture than tablet and has a luxurious, rich flavour that takes over the mouth when eaten.  One piece is never enough and will definitely leave you wanting more.
We had to hide this in the distillery when it arrived otherwise Martin might have polished it all off…
The Drinks Bakery creates unique savoury snacks that are expertly flavour profiled to match great drinks from around the world.
The deliciously rich, crumbly Drinks Biscuits are thoughtfully crafted to balance and enhance the character of your favourite drinks.
We really enjoy them and have sold them in our distillery shop since opening.  Just perfect to enjoy alongside a wee G&T!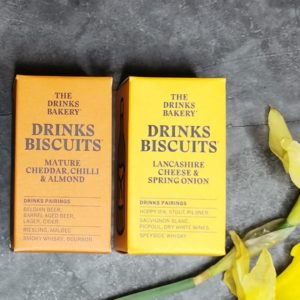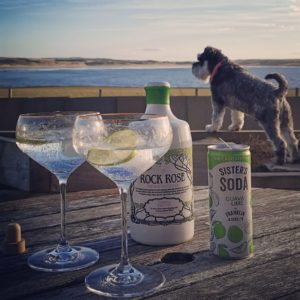 Franklin & Son's mixers featured in all our Refill Rewards Club March boxes.
We chose different mixers to accompany each spirit this month – the Sister's Soda in Guava & Lime makes a really lovely and crisp drink when paired with our Spring Edition Gin.  We'd love to hear what you thought?
Check out Mr Mackintosh on look-out duty.  It's his favourite place to stand in the garden to spot people on the beach to bark at!
Did you like the look of our Refill Rewards Club – March box?  Sign up to become one of our fabulous members – become a SuperFan, an Appreciator or a Sipper and enjoy regular boxes of goodies just like this.
Why not share the love of our Refill Rewards Club and surprise somebody special with a gift subscription?
Don't forget our members receive priority access to our Limited Editions and New Releases through their members page!  We'll have one coming towards the end of this month…….