We are proud to work with some of the top venues and bartenders. Here, our Brand Ambassador, John, spends five minutes with some of the bar-trade professionals who love our spirits.
Five Minutes with… Alden Mckechnie from the DarkBear
1. Favourite Rock Rose Gin and/or Holy Grass Vodka serve(s)?
The Shackleton 204 or a Negroni.
2. What's the top-selling cocktail in your venue?
Our top seller is the Zombie.
3. First time you encountered our spirits and why you like them?
I discovered your spirits around a year ago and after trying all of your expressions I fell in love with the quality and flavour.
4. How long have you been working at your venue?
I have been working with the Dark Bear for roughly a year (since Spring 2021).
5. Who is your drinks trade hero or mentor?
I'd say my mentor or hero would be David Smith and Lloyd Brown as I've learnt so much in such a short period of time.
6. What's your all-time favourite cocktail?
My all-time favourite cocktails have got to be the Café Cubana or the Negroni.
7. And which piece of music would you listen to whilst sipping these drinks?
Physical education by Animals as Leaders.
8. Favourite venue (anywhere in the world) other than your own bar?
Black Parrot in London.
9. Fantasy cocktail hour: who with and what would you drink?
Fantasy cocktail hour would have to be spent with Don Beachcomber, so I could pick his brains relentlessly and we'd have to be drinking Zombies (his spec).
10. Is sustainability important to you and, if so, how do you incorporate that interest into your work?
Sustainability is very Important to me. I incorporate this in my work by recycling everything that we can, using metal straws and thoroughly cleaning them, we make a lot of our syrups etc in house and re-use empty bottles for spirit blends and such. We also use a lot of dehydrated fruit as garnishes increasing the longevity of the fruit.
The Rock Rose Shackleton 204 Cocktail by Alden Mckechnie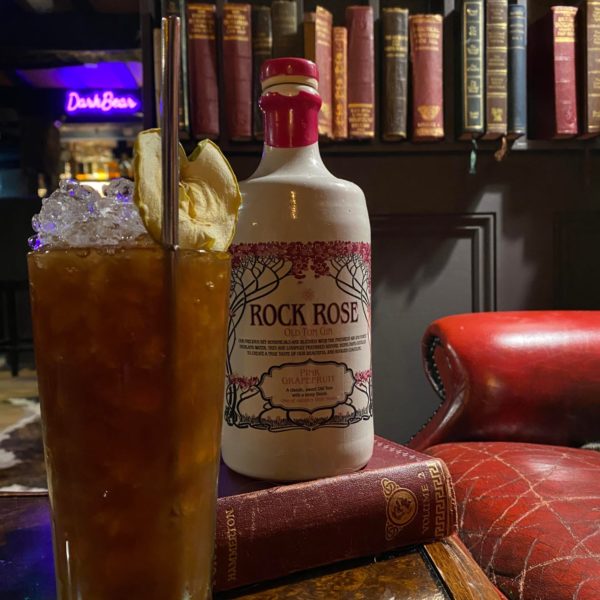 Ingredients
35ml Rock Rose Pink Grapefruit Gin
35ml Cerne Abbas Blonde Beer
25ml Liberty Fields Apple Syrup
Method
Flash blend then strain over crushed and garnish with a dehydrated apple slice