Gorse also known as whin (Ulex europaeus) is a member of the Fabaceae family of large flowering plants which are part of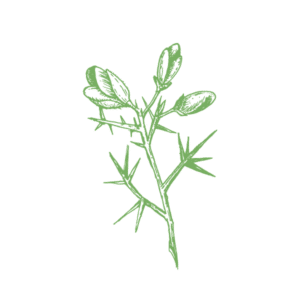 the bean, legume or pea family. Gorse is native to the British Isles and Western Europe. It is one of the few plants that flower all year round.
In the Early Medieval Ogham alphabet, which was primarily used to write the early Irish language from the 4th to the 9th centuries AD, gorse represents the letter 'O', and is pronounced 'Onn'. In the Celtic world, gorse was thought to offer protection against misfortune. As it has bright yellow flowers and is an insatiable seeker of warmth, forever chasing the sunlight the ancient Celtic people associated gorse with fire, light and sun. As gorse is quick to sprout new shoots and growth when it is destroyed, either by nature or man, in the Celtic world this botanical was associated with optimism and resilience. Historically, gorse increased the value of the land on which it grew, as it was used on poor land to increase soil fertility. The young shoots of gorse make a good fodder crop, which were traditionally gathered and bruised to fed animals in winter. The cover provided by gorse also makes it an important botanical for a whole variety of wildlife.
Gorse makes a good firewood and it has traditionally been used throughout the Celtic world as a fuel source. The wood of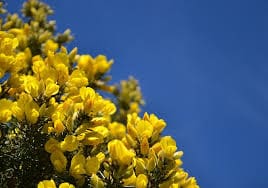 this botanical is highly saturated with natural oils. This means that gorse wood burns voraciously, with a fierce flame and at a higher temperature, more comparable to charcoal than with other woods. Gorse was highly valued during the 'Beltane' or 'Bel's-Fire' festival, for the intense fire it created when burnt. Beltane is first mentioned in Irish literature dating from the 9th century AD, where a Christian bishop describes how cattle were driven between two gorse-fuelled bonfires on Beltane in order to afford them magical protection from disease before they were taken to the summer pastures to graze. The pre-Christian Celtic people divided the year into two main seasons – the beginning of winter or the darker half of the year began on 'Samhain', traditionally celebrated from 31st October to 1st November, as the Celtic day began and ended at sunset and 'Beltane' most commonly celebrated on 1st May, or about halfway between the spring equinox and the summer solstice. Samhain and Beltane were thought to be critical periods when the veil between the human and supernatural world was temporarily erased. On Beltane witches and fairies were thought to roam freely, and measures had to be taken to protect against their enchantments.
The bright yellow, strongly coconut-scented gorse flowers are edible, they can be eaten on their own or as part of a salad,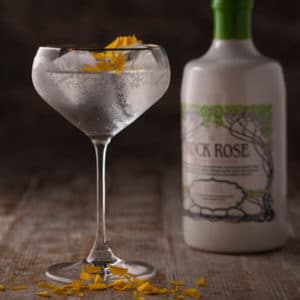 and they are especially good when added to scones to impart a delicate flavouring. Gorse flowers can also be fermented to create wine and beer. They make a very good flower wine, both dry and sweet, with a lovely yellow colour and add coconut notes to gin. In Ireland, gorse is sometimes added to whisky which changes the colour of the liquid and adds a unique almond like flavour to the spirit. Gorse flowers and the young green shoots of the botanical can also be used to make dye, for clothes, or for food. The flowers can be used to make gold and yellow dyes, whilst the shoots make a soft green dye.
By Joanne Howdle, our Tour and Events Co-ordinator