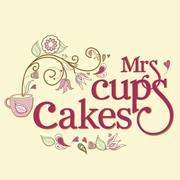 This week as part of our #TheCaithnessWay series we have been chatting to Mrs Cups Cakes – simply amazing and incredible cakes.
Can you tell me a little about your business?
I design and make unique, bespoke celebration cakes specialising in wedding. I was awarded The Scottish Baking Award – Best Artisan Baker. I also offer sugar craft and cake decorating tutorials … either 1–1 or in groups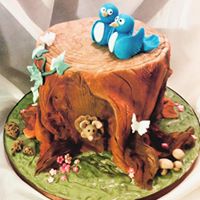 What inspired you to start-up your business?
It began when I opened my lifelong dream, the award winning 'Cups Tearoom' – I retrained in cake designing at the same time. The tearoom won several Highlands and Islands awards. I had it for five years, and I designed the menus, doing most of the baking and cooking. I then decided to opt for a slower pace of life and became Mrs Cups Cakes
Has anything unusual or surprising happened while you've been in business?

I have many tales of travellers and customers when in the tearoom. We were number one on Trip Adviser and people travelled from all over the world to come and see us …. and when they did we had many repeat customers. With the cake business I am never sure what I am going to be asked for next so joke that 'I dream in cake'.
What makes your business special?
I offer a unique opportunity for my customers to design their own celebration cake with my guidance.
What are the highlights of being a business based in Caithness?
I love the small community. The friendships I have developed over the past seven years are fantastic. A great opportunity to do what I love in my own beautiful home town
Describe your business or product in 3 words?
Bespoke Custom Cakes
What makes Caithness special to you?
It is my home, I have lived all over the word but home is best. My grandmother from Halkirk taught me to bake. I am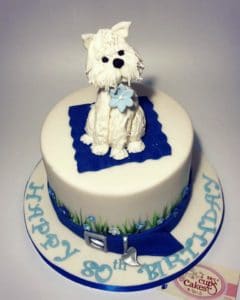 inspired by tried and tested recipes, those she passed down to me, and those I am still gathering. I love our fantastic local produce.
What, to you, is the Caithness Way?
Caithness is my home, like me, my cakes are born, grown to fit the celebration and love to make people happy.
What is a normal day to you?
I work very hard and take little time off, baking and caking is my life. I am inspired by my daily walks around the county when I clear my head and gather inspiration for my next design
Where is your favourite place in Caithness and why?
Anywhere beside the sea, I love the changing colours of the water and sky and the fresh salted air. I love my daily walks and collecting 'treasure' from the beach.
Does Caithness inspire your business?
Superb local ingredients and all the colours of nature, the plants, the sea, the sky, the fields, the animals, I love them all.