We are delighted this week to have spoken to Lisa of Inspired by Caithness and are looking forward to sharing with you her fabulous love of Caithness.
Can you tell me a little about your business?
I'm a digital artist celebrating the stone and vast open landscape of Caithness. I capture photographs of the area's flagstone textures and views and squish them together using digital processes before printing the results for others to enjoy.
Titled 'StoneScape', this fusion of Caithness stone with land is produced through my creative outlet 'Inspired by Caithness'. A range of limited edition, and open edition prints, as well as greeting cards are sold by various stockists and online where you'll also find the odd Caithness adventure blog post.
What inspired you to start-up your business?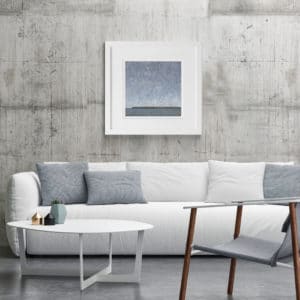 Looking back, three experiences stand out more than others. The first was growing up in a B&B during my teenage years. Understanding the benefits and challenges my mum faced becoming a business owner was an invaluable introduction to entrepreneurship. I soon learnt the ropes and thrived on playing 'landlady' while my parents were away, although the cryptic folding of flat sheet hospital corners will haunt me forever.
Secondly, while travelling around South-East Asia (with fresh design graduate eyes) I admired the way designers and artists incorporated materials unique to their own countries into their work. It made me think of home and Caithness stone. My travel journal soon transformed into a sketchbook packed with ideas incorporating elements of Caithness.
The third catalyst followed a couple of years later while embarking upon parenthood with our first-born, Johnny. I decided to bring a few of the sketchbook ideas from my travels to life in the hope that being my own boss would allow for flexible working hours and provide a creative outlet while being mum.
Has anything unusual or surprising happened while you've been in business?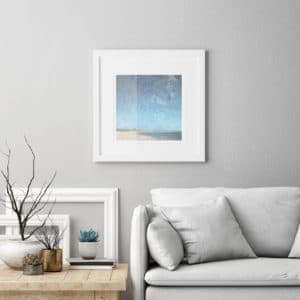 About three years ago graphic design services were part of the Inspired by Caithness offering. I was approached by a local tourism start-up to develop logo design ideas and at the last minute I ended up throwing a curveball concept onto the table. The client fell in love with this 'wild card' design and went on to use it as the North Coast 500's official logo. It's always a nice surprise seeing it crop up while out and about and a fond reminder of the graphic design days, an important stepping-stone along the Inspired by Caithness journey.
What makes your business special?
The location. Caithness is a unique corner of Scotland and my business ethos is to encourage appreciation of this humble, low-lying county. I once received a testimonial from a customer born and living in Caithness who confessed: "Lisa's work has opened my eyes to the beauty that surrounds me every day" – that certainly feels special to me.
What are the highlights of being a business based in Caithness?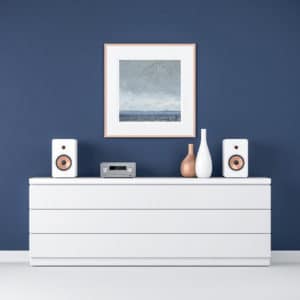 Being surrounded by endless sources of inspiration, a supportive business community and loyal customer base are just a few of the perks. There's always someone willing to help, give advice or share your story. Caithness also provides opportunity for a slower pace of work and life. No matter how hectic things get, you can escape to a deserted beach or wide-open space in a matter of minutes.
Describe your business or product in 3 words?
Creative, evocative, journey.
What makes Caithness special to you?
It has to be the wide-open landscapes and those huge Caithness skies. I didn't appreciate just how big our skies were until a recent trip to Norway's fjørds. Being surrounded by the sky-scraping faces of the fjørds meant only a fraction of sky was visible during the day. The dizzying, almost claustrophobic feeling it induced surprised me, but it felt good to breathe again once travelling home through the exposed landscape of Caithness under those huge hypnotic skies.
What, to you, is the Caithness Way?
Each stage of my creative process is immersed in the Caithness Way. From start to finish, my work is influenced by elements of the area's modest culture and rich heritage. The materials, stories, humble conversations, family picnics, local exhibitions and archaeology can each spark up inspiration for creating artwork.
What is a normal day to you?
Every day is different at Inspired by Caithness HQ but it usually begins after the chaotic school run and a short breather while walking the dog along Thurso Beach. On a typical working day, I'm in the office hand finishing orders with a steamy cup of tea while an episode of TED talks plays in the background. Some days are set-aside for working on new artwork, blogging or delivering to local stockists – a perfect excuse for some exploring before the day is done. On these days the car is packed to the gunnels with stock, a flask of yet more steamy hot tea, a camera, walking boots, and my trusty location manager (Lola the dog).
Where is your favourite place in Caithness and why?
Oh I could never choose one! But as a family, we've had many magical moments at Ham Harbour. Even in winter, we wrap up in snowsuits, bring a flask of hot soup, call to the seals, dream of being a selkie (a Scottish mythical half human, half seal creature), skim stones, watch the birdlife and search for Groatie Buckies. The day ends with a hot chocolate as soon as we get home, and if that doesn't do the trick there's always a hot bath!
Does Caithness inspire your business?
In more ways than one. A material I'm delighted to have finally found a way to work with and features prominently in my current work is Caithness Flagstone. The natural material has been renowned for its durability for thousands of years and still features in cities worldwide today. Each textured surface and edge of Caithness stone is unique, exposing layers of Lake Orcadie's basin where the stone originally formed around 400 million years ago. The big skies and flagstone of Caithness influence my current 'StoneScape' series where textures of flagstone are captured from walls, pavements, beaches, benches and harbours in the county and fused with familiar landscapes.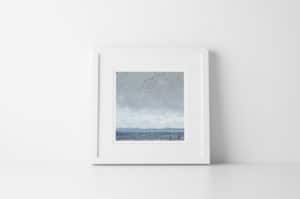 The StoneScape series was launched over a year ago now with almost all prints now sold. So to celebrate, I've added a new limited edition print to the collection just in time for Christmas titled 'From the Ferry'. The new print is limited to 50 editions and was released to our website subscribers yesterday before being announced across social media. It features a skyline view of Caithness captured aboard the Hamnavoe passenger ferry on its return from Orkney to Scrabster. I wanted to highlight the many geological and historic connections between Orkney and Caithness in this piece and so used Caithness stone textures from the ancient standing stones at The Ring of Brodgar.