This week we are sharing the wonderful paintings and products created by Lisa Weller.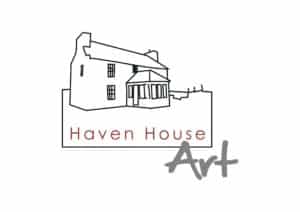 See more of Lisa's fabulous work on her website, Haven House Art.
Can you tell me a little about your business?
My name is Lisa Weller. I named my business after my little cottage on the cliffs in Wick, called Haven House. I am a full-time artist and I paint seascapes, landscapes and paintings of nature all inspired by my beautiful surroundings here in Caithness and the stunning Scottish Highlands.
I not only sell my originals but I sell prints and products too, such as luxury coaster sets, cushions and bags.
You can visit me in my little studio on the cliffs by appointment or visit The Gallery at John O'Groats.
What inspired you to start-up your business?
I had to! I tried a corporate career, but it just wasn't for me. There was so much creativity inside of me that needed to be expressed. I started painting part-time in Sussex and gradually cut down my full-time corporate hours until I was able to pursue this creative path full-time seven years ago when I moved to Caithness.
Has anything unusual or surprising happened while you've been in business?
I guess I was a little surprised, and honoured, to be asked to create a painting in 2015 for HRH the Prince of Wales to commemorate 60 years since he first came to Caithness. I got to meet His Royal Highness and present my painting to him, which was a little nerve wracking!
What makes your business special?
I try to do everything from my heart and I tap into my sensitivity as an artist to run my business rather than doing everything in a mass-produced way. I think about how I like to be treated as a customer and ensure that my customers receive a five-star service from start to finish. I get that when a person buys a piece of art it is a special moment for them and it has stirred something inside of them. I feel honoured that I can create an emotional response in someone enough for them to part with their hard earned money. When a person is brought to tears by my work (in a good way!) I know that my job is done.
The same with my products too. Every little print and card I produce includes the story of what inspired me to paint the scene. I like to take my customers on a journey and be just as inspired as I am.
What are the highlights of being a business based in Caithness?
The highlights are that I am constantly surrounded by inspiration. Too much sometimes! It can be difficult to knuckle down to the business side of things and admin when all I want to do is be out gathering the inspiration and taking the photographs.
Caithness is a very supportive community and I love how local businesses support each other. It was this that led me to collaborate with other creative businesses in opening The Gallery at John O'Groats. We all have a common vision of bringing something positive to the area, where we not only benefit but the area is enriched too.
Describe your business or product in 3 words?
Inspiring Scottish Art
What makes Caithness special to you?
Caithness is so special to me. I have travelled a fair bit but nowhere spoke to me as much as Caithness. When I first arrived here seven years ago it was like coming home. Caithness has given me roots and it gives me space to breathe and to grow.
I remember when I first came my senses were alive to everything – the sounds, the smells, and the sights that make Caithness unique. I would sit on one of the empty beaches and all worries would slip from my shoulders and everything began to make sense. I get a sense of clarity and peace in Caithness that I get nowhere else. The wide-open skies and rolling landscape take away all distractions and allow me to fully be present in each moment.
What, to you, is the Caithness Way?
The Caithness Way is beautiful and simple, unspoiled, rugged and natural and it is that spirit that I try to emulate in my paintings.
What is a normal day to you?
It depends on the weather and how long I want to be outside!
On a good day, I will wake up at 8am and work on admin for a few hours. The dog will demand his walk about midday. We'll go out, I'll grab some lunch, then afternoons are my sacred painting time where I paint in my studio attached to the cottage overlooking the sea. I'll finish about 5 or 6. In summer months I'll go out again with the camera and stay out. I am literally in my element in the summer months and can't get enough of the landscape and beaches.
Where is your favourite place in Caithness and why?
Gosh, there are so many to choose from. It depends on my mood I guess.
The cliffs just past the Old Wick Castle are great to wander and perch on and look out to sea. I love watching the sea birds here and looking for killer whales, plus the craggy cliffs are so picturesque.
I love Noss Head and Sinclair Girnigoe too and go out there as much as possible. I see it in all seasons and love seeing the wild flowers springing into life in spring time and waiting for the sea birds to return. You'll also get a great sunset shot here too with Sinclair Girnigoe Castle in the foreground. Sandigoe Beach is a little hidden gem of a beach just before Noss Head that I could live in! It's just so beautiful.
Does Caithness inspire your business?
Absolutely.
At weekends I'll pack a lunch and my camera and go further afield. Just to drive through the landscape is inspiring and seeing the derelict crofts and imaging lives gone by will trigger ideas for paintings.
There are so many beautiful places scattered not only around the coastline but inland too. One of my most popular prints is of the Caithness ridge line with Scaraben and Morven.
Plus the light is always changing, not to mention the weather. You never know what you are going to get in Caithness but it is ALWAYS guaranteed to be beautiful.
Share any exciting news you have for us!
I'm having an Open Studio Day on Saturday 24th November, any time between 12 and 5pm. There will be gifts, prints, cards, art and calendars to purchase, plus free mulled wine and mince pies!
As of next Easter, I will be opening the doors at Haven House as a showroom for people to visit! Watch my facebook page for details!
I'll be launching new products at my second trade fair in Glasgow in September, including an 'Inspired by Sutherland' and 'Inspired by Orkney' range of prints and coasters.