Our next fabulous local business is the very created and talented Lark & Lily Designs! Have a look at their gorgeous, bespoke pieces of jewellery and hair accessories on their website Lark & Lily Designs.
Can you tell me a little about your business?
My name is Lynsey MacGregor, owner and designer of Lark & Lily Designs. I'm based from my home in Wick, Caithness.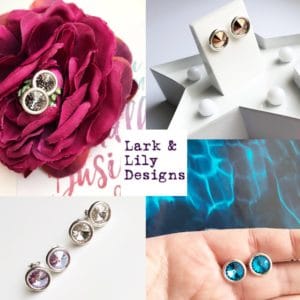 I design & create jewellery & bespoke hair accessories.
What inspired you to start-up your business?
I have always wanted to be my own boss, I love designing & I have an Honours Degree in Textiles & Fashion. I couldn't find jewellery that was modern & stylish so I started creating my own. There was nothing like that on offer here in Caithness back in 2011 when I started up Lark & Lily Designs. At that time we were planning our wedding for 2012. There were no accessories available up here so I expanded into wedding accessories; there was a massive gap in the local market for both bespoke jewellery & hair accessories. I have grown a successful award-winning bespoke wedding service for bridal parties & wedding guests over the last seven years.
What makes your business special?
I think my eye for design, texture, colour & combining that, along with my attention to detail and listening to my customers. I pride myself on using quality materials to create modern classics.
A handwritten thank you note is added in with each order. I think it's important to value your customers & thank them for their support.
One of my recent customers said 'And can I say it's the wee things that make you stand out from the rest … packaging is fab … love the wee business card and your flyer … keep up the good work hun …'
What are the highlights of being a business based in Caithness?
I have to say I have some very loyal and supportive customers here in Caithness! Also the fact that our county is so beautiful & brings inspiration for colour, shapes & textures into my designs.
Describe your business or product in 3 words?
Stylish, Modern, Sparkle
What makes Caithness special to you?
Caithness is special to me as I was born & brought up here. I have so many fond memories of summers going to the beach, taking part in the local Highland Games in the Highland Dancing competitions, right through to working summers in my Granny and Gaga's cafe and sweet shop getting the craic with local folks. Lots of family and friends live here in Caithness.
I am very close with my family, with my sister & mum being my biggest supporters of my work.
What, to you, is the Caithness Way?
For me & my business the Caithness Way is using quality materials with attention to detail to create luxury stylish accessories with a personal touch.
What is a normal day to you?
Every single day is different, but generally starts with checking emails and social media then replying to enquiries/orders from customers and always with a hot mug of tea beside me!
I could then be photographing my work, editing it, putting images/graphics together for online, sourcing materials for bespoke orders, designing a bespoke headpiece, mocking up how jewellery will look for a bespoke order or a new design , boring admin, writing a blog post, tweaking the website or social media pages, online marketing, the list is long and varied.
In between all that I try to walk my two French bulldogs, Hugo and our rescue Mabel.
People are surprised when the majority of my time is not spent actually creating or making pieces but when there is only myself running everything I am the customer service, designer, owner, marketing & tea lady!
Where is your favourite place in Caithness and why?
I have lots of favourite places in Caithness but if I had to pick just one it's Reiss Beach, it's only five minutes drive from Wick so I visit there often. I love to go there and just shut off the 2738268393 tabs that are open in my head for the business; the sounds of the waves are just so soothing. I have some time with Mother Nature and the dogs, forget all the crazy adult stuff happening & soak up the amazing big skies we have here in Caithness. Often, if you are lucky, you may see a seal pop up out the water in the distance.
Does Caithness inspire your business?
Caithness definitely inspires my work with colour and texture. Sometimes it's the colours in the amazing sunsets I see from my bedroom window, the textures of the drystone walls using Caithness flagstone to the stunning array of colours in the Northern Lights. My husband and I often take a wee road trip when we have time off work and I'm always taking photos of things that catch my eye and may inspire some of my designs. I feature a lot of the big Caithness skies on my social media, if you already follow me then you'll have seen me posting pics.
Share any exciting news you have for us!
I've won a few online & real life awards but many folk might not know that two years ago Lark & Lily Designs was chosen by Theo Paphitis himself to win his Small Business Sunday. I was awarded the honour of being recognised alongside other small UK businesses and I think I'm the furthest North on the UK mainland to win it. I haven't been able to get down the yearly event in Birmingham to meet him & collect my certificate but hopefully next year!