This week we are featuring ultra arty Marks & Pencils, who create and etch gorgeous glassware! Have a look at some of their amazing glasses on their Instagram page.
Can you tell me a little about your business?
Marks and Pencils was established in 2015 by my wife and I, shortly after we got married. It's something we'd spoken about since graduating from university, and finally put a plan together while on our honeymoon!
What inspired you to start-up your business?
Since meeting at Grays School of Art, Aberdeen, in 2008, we've inspired and driven each other creatively, and so even after graduating, moving back to my home town of Wick and settling into full-time jobs, creativity remained central to us.
In my final year at Grays, I worked on a number of glassworks, including a large portrait on a mirror, using techniques I'd grown up watching my dad use in his work as a stonemason. He's a struggle to buy for, with his cows and Jack Russell being his only interests, so I came up with the idea of engraving a glass with a tractor on for him, which he loved. He's hard to please, so I took this as a good idea!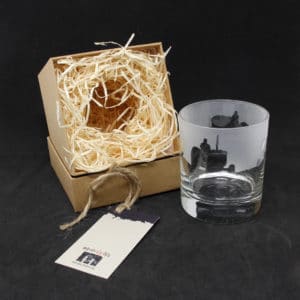 I also created 50 personalised glasses as favours for our wedding and our delighted guests suggested starting our own business, it's something I was inspired to try.
Has anything unusual or surprising happened while you've been in business?
In a mirror I engraved with an old photo of Bridge Street, Wick, there is a woman crossing the street … it turns out I now work with her grandson. Caithness really is a small place where everyone knows everyone!
What makes your business special?
It's a cliché for crafts, but every item we make is unique. From the first concept to final product, each stage is hand-created to make products you can't replicate. None are ever 100% identical due to the nature of our processes.
More than that, each design is inspired by events, memories and passions of our own lives and those of customers commissioning their own works. My dad inspired the tractors, my father-in-law the fisherman, our travels inspired the landscapes … everything we experience leads to new ideas and our collections grow organically.
What are the highlights of being a business based in Caithness?
The sense of humour and wit of the people of Caithness lead to many unique commissions. The stories behind them make them all the more characterful. One of my favourites was being asked if I could put a picture of Ed Miliband eating a bacon roll onto a wine glass. I said I had no idea if I could, but I really wanted to try. It actually turned out really good.
Describe your business or product in 3 words?
Challenging, inspired, personal
What makes Caithness special to you?
It's where I grew up. It holds all my memories and most of my family live within one mile of each other … it's a good thing we get along!
What, to you, is the Caithness Way?
To put yourself into what you do, to overcome challenges such as the practicalities of distance, to have determination and confidence in the quality of your work
What is a normal day to you?
A normal day usually consists of getting up at 5am (sometimes 4am) for a morning shift at my other job (need to make sure the mortgage is covered) although I usually make a start on preparing a few glasses to take with me to work on during my break. If I'm lucky, I'll be done by midday and can head home to hand cut and prepare more glasses or mirrors before heading out to my parents at Borrowston, where I have a work shed, to sandblast my glasses.
Once finished there, I'll nip into my parents to see how they're doing and then down the field to see Granny and get her opinion on the day's work … with the obligatory chocolate biscuit. Home then to collect Kay from her work and get dinner on before sitting down to watch some TV … while cutting more glasses out. I can't stop myself and, thankfully, it's something I really enjoy doing. Usually Fridays consist of a day at The Gallery at Groats where we are part of a local creative cooperative-run gift shop.
Where is your favourite place in Caithness and why?
My family have a farm at Borrowston, a few miles south of Wick. It's where I grew up and explored the world, getting my hands dirty and learning to love the work I do, what ever it may be. My favourite place though is in the hills behind the fields. As a child, I remember trying to catch frogs and newts in the ditches and pools, cutting peats with my grandparents and climbing to the very top of the hills where there are two ancient standing stones and several cairns. That and my Grannie's kitchen … it's the hub for everything and it's the best place to test ideas as she will always tell the truth, whether it's encouragement or shooting an idea down in flames.
Does Caithness inspire your business?
The people, the places, the work, the high standards and expectations along with the honesty of the locals all inspire us. If we didn't live in Caithness, Marks and Pencils definitely wouldn't be what it is today.
Share any exciting news you have for us!
We have just been taken on as a supplier to several Historic Scotland sites which is exciting and also having a stand for our first time at the Orkney and Black Isle shows, all in the same month as becoming new parents.