This is the recipe for making the whole pudding from scratch, it makes three so save one for next year and give one to a deserving friend (or eat it on Boxing Day or at New Year!). You could easily buy a good quality pudding and poke it with skewer holes and 'feed' it with gin – try to do this as far in advance of Christmas Day as possible. Flaming the puddings with gin is a great alternative to using brandy, the juniper flavour works really well with the dried fruit.
Ingredients
200g Plain flour
1 tsp Cinnamon
1 tsp Mace
1 tsp Ground cloves
1 tsp Ground allspice
200g Sultanas
200g Raisins
200g Currants
225g Prunes, chopped
225g Dried figs, roughly chopped
225g Dates, stoned
450g Molasses sugar
110g Brazil nuts, shelled and chopped
110g Pecans, chopped
200g Brown breadcrumbs
2 Eating apples, grated
170g Suet
6 Eggs, beaten
3-4 tbsp Milk
1 Orange, juiced and zested
100ml Rock Rose Gin
200ml Guinness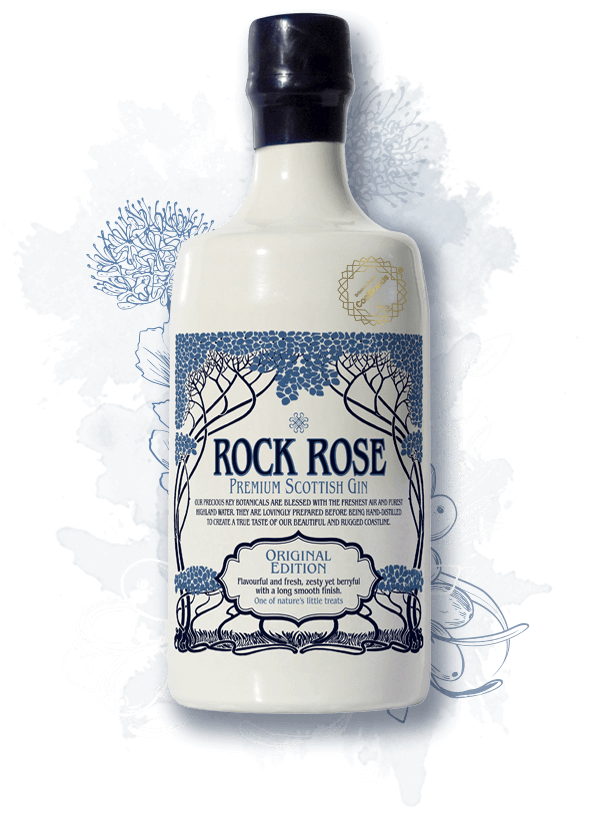 Rock Rose Gin
£36.00Add to basket
Recipe
Butter 3 x 600ml pudding basins
Sift the flour into a very large bowl.  Add the remaining ingredients and beat until everything is fully combined
Fill the pudding basins to 3/4s full. Cover with a layer of greaseproof paper and put a pleated layer of foil on top; this will allow the pudding to rise. Tie securely with kitchen string
Place the puddings in a large, heavy bottomed saucepan or casserole dish on a trivet or a layer of foil.  You may need to use more than one pan.  Fill the pan with boiling water to reach halfway up the sides of the puddings.  Cover with a lid and bring to the boil.  Cook at a gentle simmer for 6-7 hours, topping up with water every couple of hours if needed
Take the puddings out of the water, remove the foil and greaseproof and leave to cool. Cover the puddings with fresh greaseproof and foil and store until ready to use. If you have made the puddings in advance, they may be fed with extra gin through skewer holes
Before serving on Christmas Day, the puddings should be steamed for a further 2-3 hours. And then set alight with more gin, which you have gently warmed on the stove, lit with a match and then poured over the pudding
Don't forget to serve with our Rock Rose Gin Butter!