The final bottle of our 2016 Seasonal Collection – our Rock Rose Winter Edition!
Rock Rose – Winter Edition
A stunningly bare gin! Our hero botanical in the Winter Edition is spruce tips which Hanna, our gardener, collected basketfuls of in December last year. The Winter Edition has been created with thoughts of bracing walks, roaring fires and dark nights in mind. The original Rock Rose elements have been scaled down to allow the delightful pine, earthy notes from the spruce tips to shine through.
Reserve your bottle now!
Available to pre-order on our website on the 'shop' page.  The Winter Edition will be ready to ship around the first week of December.
Christmas Gifts…
Dunnet Bay Distillers – Triple Gift Pack.  Try each of our three spirits in wee miniature form.  The perfect way to sample our spirits or a wonderful gift to give from the far north of Scotland.
Set contains 1 x 5cl each of Rock Rose Gin, Holy Grass Vodka and Navy Strength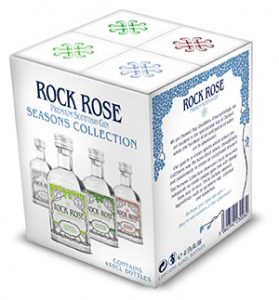 Seasonal Editions – Gift Pack.  The four seasons are captured beautifully in this gift pack!  Experience the crisp, fresh taste of Spring; the refreshing Summer; the spice and berries of Autumn and to finish off the year the fabulous warm pine and juniper notes from Winter
Set contains 1 x 5cl each of Spring, Summer, Autumn and Winter
Save