This week we are bringing back to your attention a rather fabulous band – Neon Waltz! We've introduced Neon Waltz before when their lead guitarist Kevin started working with us as a distiller! Hav

e a wee watch on Neon Waltz Youtube Channel – I'm listening as I type. Thankfully I am at home in case I burst into song!
Can you tell me a little about Neon Waltz?
We're a band born, brought-up, and based in Caithness! We are six friends who write songs together, record them and play these songs across the UK and Europe.
What inspired you to start-up Neon Waltz?
We all knew each other from a young age, and we grew up playing in different bands playing music for fun. We decided a few years ago to join up and try to make a living out of doing something we love.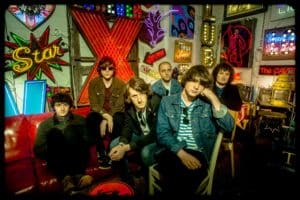 Has anything unusual or surprising happened while you've been in the band?
Hmmn, the fact that we've actually managed to stick together and keep it going for this long is surprising enough! It's a tough industry to be in … long hours, lots of time away from home, very little money. Our aim as a band was never to set out and do anything to be millionaires, but more about getting to dowhat you love, write and record music that brings us and others enjoyment, and explore places with your best friends. Not many people get the chance to do that!
What makes Neon Waltz special?
I think what makes us special is that all six of the band have an equal say in how the band runs. It isn't the normal way, but we feel it helps us to create a unique sound, and makes people want to buy our music and come see us play live.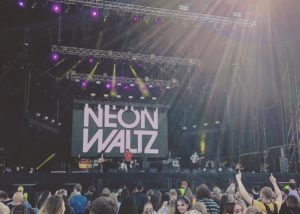 What are the highlights of being based in Caithness?
The support you receive from everyone in the community. You know that everyone wants to see their own do well, and will help you any way that they can. We've been given vehicles when ours has broken, an old croft to an arts centre to rehearse in, castles to record and film videos in, the list goes on!
Describe Neon Waltz in 3 words?
Unique, creative, fun.
What makes Caithness special to you?
I think it's being far enough away to do what you want creatively in peace, but close enough to then head out into the big wide-world, but with your feet grounded!
What, to you, is the Caithness Way?
Taking time, and plenty of it, to create something that lasts …
What is a normal day to you?
At the moment it's juggling between fitting in a day job and trying to write/record demos with the band before we head off to a studio to finish the songs off before release.
Where is your favourite place in Caithness and why?
Reiss Beach. I live a mile from it, and I walk on it every night. You'll be lucky if there's more than two or three other people on it at any given time. As soon as we arrive home after a long tour I head straight to the beach!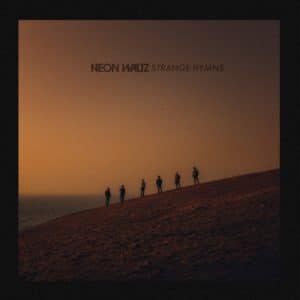 Does Caithness inspire your work?
Yes, for sure! We base a lot of our lyrics from ideas or stories that we have heard growing up, and we have used the landscape to inspire our artwork for the first album "Strange hymns".
Share any exciting news you have for us!
At the moment, we're locked away writing and recording for our second album, so keep your eyes peeled for new music. We're also going to put on a gig in Caithness at the end of the year or into early 2019. We tend to just do one gig per year up here, to keep them extra special. Tickets sell out online in a couple of hours, so once you hear about it you need to be quick to buy them.